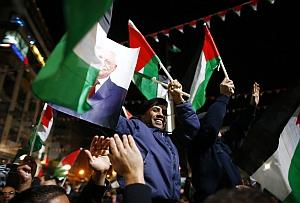 The United Nations General Assembly on Thursday approved a resolution granting Palestine non-member observer state at the United Nations. As many as 138 countries vote in favor of the bid; 41 abstained and nine voted against it.
The Palestinians were certain to win recognition as a state, but success could exact a high price -- Israel and the United States warn it could delay hopes of achieving an independent Palestinian state through peace talks with Israel.
The United States, Israel's closest ally, mounted an aggressive campaign to head off the General Assembly vote. Israeli Prime Minister Benjamin Netanyahu defiantly declared Thursday that the Palestinians would have to back down from long-held positions if they ever hope to gain independence.
Ahead of Thursday's vote, thousands of Palestinians from rival factions celebrated in the streets of the West Bank. Although the initiative will not immediately bring about independence, the Palestinians view it as a historic step in their quest for global recognition.
The largely symbolic vote changes the Palestinians's UN observer status from 'entity' to 'non-member state',' similar to the one enjoyed by Vatican and would implicitly recognise Palestinian statehood.
Last week, the IBSA nations of India, Brazil and South Africa had expressed their support for Palestine's request to be accorded Observer State status.
"The resolution does nothing to get them (Palestinians) closer to statehood, and it may actually make the environment more difficult," US State Department spokesperson  Victoria Nuland had told reporters on Wednesday.
Deputy Secretary of State Bill Burns and US Special Envoy for Middle East Peace David Hale met Abbas in New York and expressed the US government's 'very real concern' about the Palestinian initiative in the UNGA, Nuland said.
"We've been clear, we've been consistent with the Palestinians that we oppose observer state status in the General Assembly and this resolution.
"And the deputy secretary also reiterated that no one should be under any illusion that this resolution is going to produce the results that the Palestinians claim to seek, namely to have their own state living in peace next to Israel," she had said.
Picture: A Palestinian man waves the Palestinian flag as he celebrates during a rally in the West Bank city of Ramallah
Photograph: Marko Djurica/Reuters