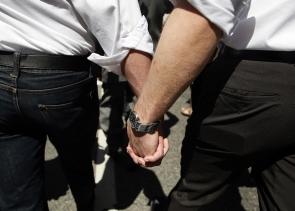 Pakistan's first website for lesbian, gay, bisexual and transgender communities has been blocked by telecom authorities after receiving complaints from Internet users. However, the website's administrators on Thursday appeared to have outsmarted the authorities by hosting it at a new web address.
Pakistan Telecommunication Authority said it had blocked access to the site after getting complaints from Internet users.
Queerpk.com was set up in July with the slogan 'Know us, don't hate us' to offer support to the gay community. The site's founder, who did not want to be named, said that the ban violated freedom of speech.
Asked if the ban would be challenged in court, an administrator of the website said, "No, because legal proceedings cannot be done anonymously and no lawyer in Pakistan would take up this case considering how our website is described as being against Islam."
The administrators said operating the website was very challenging.
"Operating the website has been challenging because we have to think a hundred times before posting anything, not to mention the fact that we have to do everything anonymously. And then we have a huge threat of being censored over and over again," an administrator, who did not wish to be identified, told PTI.
The administrator said they were expecting such a move from the authorities.
Netizens attempting to access the site inside Pakistan are greeted with a note that reads: "Surf Safely! This website is not accessible. The site you are trying to access contains content that is prohibited for viewership from within Pakistan."
Outside the country, however, Queer Pakistan can still be reached via a redirect to the new web address. "#QueerPK is now accessible on new domain name http://humjins.com! We are determined to fight #censorship if we have your support!" tweeted Queerpk.
Homosexuality is still a taboo and illegal in Pakistan, although laws are rarely enforced. A recent study by the Pew Research Center found that Pakistan was among the least tolerant of homosexuality among 39 countries surveyed. In 2011, a gay pride celebration at the United States embassy in Islamabad provoked angry reactions across the country.

Image: Homosexuality is still a taboo and illegal in Pakistan

Photograph: Jim Urquhart/Reuters