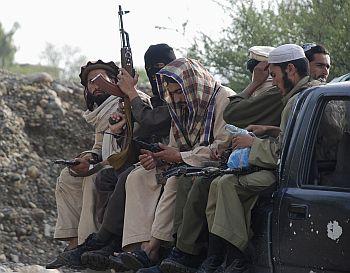 The Pakistani Taliban has announced a month-long ceasefire to facilitate the resumption of peace talks suspended by the government over the recent execution of 23 troops.
"We announce a month-long ceasefire from today (Saturday) and appeal to all our comrades to respect the decision and refrain from any activity during this period," said Shahidullah Shahid, spokesman of the outlawed Tehrik-e-Taliban Pakistan.

He said directives had been issued to all Taliban factions to respect the truce and honour it by avoiding all "jihadi activities".
"We believe that the government would seriously consider our decision and will keep the negotiation process free from all kind of politicking and would make progress in a positive manner," Shahid said in a statement issued to the media.
The ceasefire was welcomed by the government, and Irfan Siddiqui, the head of the state negotiators, told PTI: "We welcome this announcement. This is a happy and positive development. We are hopeful that the dialogue process will move ahead."
Asked if the government and the Taliban were engaged in any back channel parleys, he said: "You cannot call it back-channel talks. The government committee and the Taliban-nominated committee were in touch with each other away from the media glare.
"We had sought an unconditional ceasefire from the Taliban for the talks, which were suspended due to terrorist acts, to move ahead."
Siddiqui said the talks would "resume now and hopefully you will hear some good news".
The government suspended the troubled peace process on February 17 after a Taliban faction beheaded 23 Frontier Corps personnel abducted in 2010. Even as the two sides were holding talks, the Taliban carried out attacks in several parts of the country.
After the process was put on hold, military jets targeted Taliban hideouts in the restive tribal areas, killing over 100 terrorists.
Taliban spokesman Shahid said the decision to announce the ceasefire was made after deliberations involving the TTP 'shura' or council and the group's chief Mullah Fazlullah.
"TTP had started talks process with the government with sincerity. We are a principled party and take every decision with the consultation of the shura and approval of the TTP chief," he said.

"The government gave a positive response to our proposals for ending the deadlock in talks and we have been assured of its implementation," he said in the statement.
He said the Taliban had acted following an appeal from scholars and in the best interest of the country.
Commentators on TV channels said the announcement came after hectic back-door talks between the government and the banned group.
Since the dialogue was launched to end a nearly decade-long insurgency that has claimed some 40,000 lives, observers have expressed scepticism that it would lead to lasting peace. Experts have pointed out that the Taliban have reneged on previous peace deals or use them to consolidate their position.