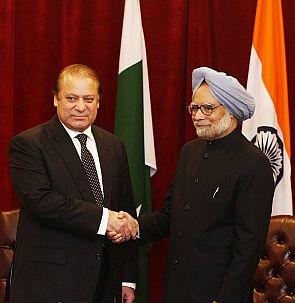 Pakistan has handed over to India a "new set of proposals" aimed at resuming the stalled bilateral dialogue and gradually addressing all longstanding issues, a media report said on Saturday.
The proposals were handed over to the Indian side on Thursday by Tariq Fatemi, Prime Minister Nawaz Sharif's Special Assistant on Foreign Affairs, The Express Tribune daily reported.
The proposals were included in a letter from Prime Minister Nawaz Sharif inviting his Indian counterpart Manmohan Singh to Pakistan. The letter contained a roadmap for reviving the stalled peace process between the two sides, the daily quoted its sources as saying.
Fatemi was part of a delegation led by Punjab Chief Minister Shahbaz Sharif, the premier's younger brother, that travelled to Delhi and India's Punjab state this week.
Under the roadmap, Pakistan has proposed arranging a meeting between the National Security Advisors of the two sides to iron out differences over resuming the composite dialogue.
During a meeting with the Indian envoy here on Wednesday, Prime Minister Sharif had proposed that there should be a institutionalised mechanism for meetings between the NSAs to discuss terrorism and allay concerns of both sides.
In the letter, Prime Minister Sharif said his government was willing to go "the extra mile" to improve ties with India, the Tribune reported. He suggested that issues like Sir Creek and Siachen should be settled through "backdoor diplomacy".
An unnamed foreign ministry official was quoted by the daily as saying that these issues could be resolved if both countries showed political will. The official further claimed the resolution of Sir Creek and Siachen issues could pave the way for addressing the longstanding Kashmir problem.
Singh got the formal invitation from Sharif for visiting Pakistan on Thursday and it was accepted. Pakistani leaders have been inviting Singh to the country for the past few years
but the Indian leader has said his visit would depend on the situation on the ground in terms of terrorism and the Line of Control.
The Pakistan high commission in New Delhi said Sharif's message of goodwill emphasised the country's "desire to forge friendly and cooperative relations with India in the interest of peace and prosperity...of the region"."