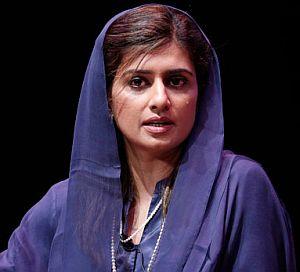 Pakistan supports objective behind US drone strikes over its territory, but it should be carried out in manner that is lawful and not counterproductive, Foreign Minister Hina Rabbani Khar said on Friday.

Khar said Pakistan does not disagree with the drones being used to go after terrorists.

"What the drones are trying to achieve, we may not disagree. We do not disagree. If they're going for terrorists -- we do not disagree," the minister said.

"But we have to find ways which are lawful, which are legal and not counterproductive," Khar said.

Khar said no one denies the fact that the use of unilateral strikes and drone strikes on Pakistan's territory is "unlawful and illegal" but it is also counterproductive and leads to civilian deaths.

She said in the wake of the drone strikes, which also kill civilians, it becomes difficult to explain to the Pakistani public that the strikes aimed at killing terrorists is in the interest of Pakistan.

The strikes make the war against extremism an American war, which the Pakistanis feel has been imposed on them.

"As the drones fly over the territory of Pakistan, it becomes an American war and the whole logic of this being our fight, in our own interest, is immediately put aside and again it is a war imposed on us," Khar said during an address at Asia Society in New York on Friday.

In the case of the drone strikes, "it is about choosing to win the battle at the cost of the war. These are battles. You get one terrorist, two terrorists, fine. But are you winning the war? What is more important is to win the war," she added.

When asked why international polls find anti-America sentiment to be the highest in Pakistan, Khar gave a single word answer "drones."

She added that the tendency to blame Pakistan entirely and singularly for the woes in Afghanistan creates reaction from both sides.

"The last two years were difficult," when both US and Pakistan became unpopular in each other's countries but "we have the opportunity from both sides to engage inspire more confidence."