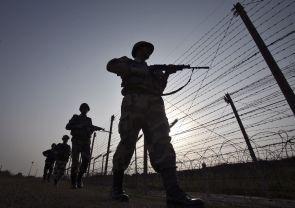 Pakistan on Monday summoned the Indian deputy high commissioner to protest "ceasefire violations" by the Border Security Force along the Line of Control, claiming that it resulted in the death of a civilian at Rawalakot in Pakistan Occupied Kashmir.
Pakistan also asked India to uphold the 2003 ceasefire agreement while committing itself to a "constructive, sustained and result-oriented process of engagement" between the two countries.
The foreign office summoned Deputy High Commissioner Gopal Baglay this afternoon to raise its "serious concern over the continuous ceasefire violations by Indian Border Security Force" across the Line of Control over the past couple of days.
A statement issued by the Pakistan foreign office spokesman claimed the ceasefire violations had resulted in the death of a civilian in Rawalakot in Pakistan-occupied Kashmir.
"Pakistan calls upon India to uphold the ceasefire over the LoC and reiterates its commitment to the ceasefire agreement of 2003, which should be respected in letter and spirit," the statement said.
Pakistan also referred to the need to abide by and strengthen existing military mechanisms to ensure that ceasefire violations do not recur.
Referring to its commitment to a "constructive, sustained and result-oriented process of engagement with India", Pakistan said it believes "serious efforts need to be made in maintaining a positive atmosphere and avoid negative propaganda".
Meanwhile, The Express Tribune quoted an unnamed Foreign Ministry official as saying that Pakistan is thinking of scaling down its diplomatic staff in New Delhi and shifting troops from its border with Afghanistan to the eastern frontier after a spike in tensions with India.