Islamabad and Kabul agree to jointly work for holding an Ulema Conference to address the issue of rising militancy and suicide attacks in the name of religion, reports Tahir Ali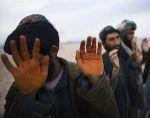 Pakistan has released a number of Afghan Taliban detainees over the request of Kabul in a move to make the armed opposition to participate in the Afghan-led and Afghan-owned reconciliation process to end violence.
The decision came after a high-level delegation of the High Peace Council led by Chairman Salahuddin Rabbani that visited Islamabad and held meetings with different leaderships of Pakistan. Both sides had an extensive exchange of views including briefing by the Pakistan authorities on the investigation of the assassination of slain Ustad Burhanuddin Rabbani. The joint statement shows that both the sides have agreed over many points to restore peace and stability in Afghanistan. The HPC delegation underlines that Pakistan role is important in the process of peace and reconciliation in Afghanistan.
"The two sides appealed to the Taliban and other armed opposition groups to participate in the Afghan-led and Afghan-owned reconciliation process to end violence. In support of peace and reconciliation process and in response to the requests of the Afghan government/HPC, a number of Taliban detainees are being released. All concerned countries including Pakistan, Afghanistan and USA will facilitate safe passage to potential negotiators to advance the reconciliation process.
Pakistan and Afghanistan will work closely with other international partners to remove the names from the UN sanctions list of the potential negotiators amongst Taliban and other groups to enable them to participate in peace talks," said the joint statement.
Islamabad and Kabul also agreed to jointly work for holding an Ulema Conference which will include religious scholars from Pakistan, Afghanistan and other Islamic countries. The conference would address the issue of rising militancy and suicide attacks in the name of religion, and the defamation of Islam due to its linkage with terrorism.
According to the statement, "Pakistan and the HPC called on the Taliban and other armed groups to sever all links with Al Qaida, and other international terror networks."
The statement said that Pakistan had freed Taliban detainees, but there were no details on who were freed and who are on the list of those going to be freed.
Kabul has always suspected that Pakistan has kept the Afghani Taliban in "jail to retain some control over peace efforts and have a say in any settlement".  On the other hand Afghan Taliban has also criticised the arrest of their leaders by Pakistani security agencies.
In 2003, Pakistani authorities arrested former Taliban minister Mullah Abdul Razzaq but he managed to escape. In 2007, Pakistani secret agencies arrested Mullah Obaidullah Akhund, a former minister in the Taliban regime, who later on died in detention in 2010. In February 2008, Pakistan arrested Commander Mansoor Dadullah, the brother of Dadullah Akhund, a dreaded Afghan Taliban commander known for indoctrinating suicide bombers. He was arrested along with five other Taliban members in Baluchistan, Pakistan.
In May 2012, Afghan Taliban asked Pakistani authorities to clear its position after reports emerged that Ustad Yasir, a leading Taliban commander, had died in Pakistani custody. He was reportedly arrested in January 2009, by Pakistani intelligence agencies.
At the moment there are many Taliban detainees in Pakistani jails, but Mullah Baradar (number 2 to Mullah Omar), former Taliban Justice Minister Mullah Nooruddin Toorabi, Mullah Jahangirwal (former secretary to Taliban supreme commander) and Allahdat Tayab, an ex-deputy minister are among the leading names.
Prior to this development, Habibullah Fawzi, a senior member of HPC told Reuters, "We have asked Pakistan to release them because they were the policymakers of the Taliban and close aides to Mullah Omar."