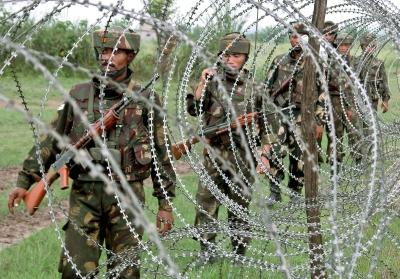 One paramilitary Border Security Force trooper was killed and seven others wounded in the heavy firing by Pakistan troops on the international border in Jammu on Tuesday night.
A spokesman of the BSF in a statement said that on Tuesday night, "Pakistan resorted to heavy firing/shelling directed on as many as 52 border outposts manned by the BSF."
"Heavy shelling was carried out by Pakistan Rangers in the Arnia, R S Pura and Akhnoor sectors," the statement added.
"In the exchange of fire, one head constable of the BSF, Mukesh Lal Meena posted at the BOP in Chinaj. He was a resident of the Nipajipura village in the Sawai Madhopur district in Rajasthan sacrificed his life in the service of the nation," the statement added.
"Beside the death of the head constable, seven other BSF personnel sustained splinter injuries during the exchange of fire," it said.
"Condition of all the injured persons is absolutely fine," the statement said.
"The BSF gave befitting reply at all the places and the damage on the Pakistan side is still to be ascertained," the statement said.
The heavy Pakistan firing came hours after Union Home Minister, Sushil Kumar Shinde visited the border areas in Jammu on Tuesday. Shinde reviewed the situation with top BSF officers and also had an aerial survey of the border areas.
Image: Indian soldiers patrol near the LoC in Akhnoor sector, about 65 km of Jammu
Photograph: Amit Gupta VM/DY/Reuters