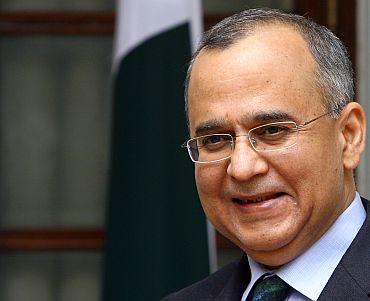 Pakistan High Commissioner Salman Bashir on Monday visited prisoner Sanaullah Ranjay, injured in a scuffle with another inmate in a Jammu jail, at PGIMER in Chandigarh and said his chances of survival seemed "bleak".
Advising both countries to maintain restraint and not create hype, he said the doctors at the hospital were trying their best to save him. "However, the prognosis is weak," he told reporters after meeting the Pakistani prisoner.
"The condition (of Sanaullah Ranjay) is critical...the outcome is bleak," he said. A spokesperson of PGIMER said the condition of the patient remained the same as yesterday. Demanding an impartial probe into the attack on Sanaullah, Bashir said, "We want him to be repatriated to Pakistan."
He said the government was working on facilitating Sanaullah's family to visit him at the PGIMER. The high commissioner, along with other officials, visited the patient and inquired about his health condition from the doctors attending on him.
"When the patient was brought here, he was in bad shape," he said. Meanwhile, medical bulletin of the institute said, "His metabolic parameters are now settling. The arterial blood gases are satisfactorily maintained on moderate oxygen flow. He continues to be on ventilator. His blood pressure continues to be maintained with three inotropic drugs."
A heavy deployment of police personnel is in place around and inside the PGIMER to prevent any eventuality. Fifty-two-year-old Sanaullah, a resident of Sialkot in Pakistan, is serving a life term after being convicted under Terrorist and Disruptive Activities provisions following his arrest in 1999.
He was injured during a scuffle in high-security Kot Balwal jail in Jammu and was immediately shifted to GovernmentMedicalCollegeHospital and later rushed to PGIMER in an air ambulance after doctors said his condition was critical.
The assault came a day after the death of Indian prisoner Sarabjit Singh, who was brutally attacked by six inmates in Lahore's Kot Lakhpat jail.