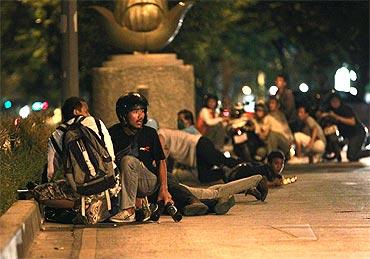 Thai security forces fired live rounds after moving in to seal the heavily defended encampment of the Red Shirts demonstrators in the centre of Bangkok on Friday, the BBC reported.
Embassies were closed as protesters set fire to a police bus and gunshots rang out. "The area is like a war zone, with troops firing into a park as a helicopter buzzes above," the BBC correspondent said
Earlier, one person was dead when Thai security forces and anti-government protestors called the 'Red-Shirts' clashed overnight in Bangkok on Friday, the report stated.
Gunshots and a series of loud explosions were heard close to the Red Shirts' sprawling encampment in the heart of Bangkok.
Earlier, Renegade Thai general Khattiya Sawasdipol, who is aligned to the Red Shirts, was shot by an unknown gunman and is in a critical condition.
The protesters want Prime Minister Abhisit Vejjajiva to step down.
Thousands of protesters have reinforced their barricades and vowed to maintain their camp in a commercial district of Bangkok until elections are called.
"The total seal-off measure took place since Thursday evening," army spokesman Col Sunsern Kaewkumnerd said, the report added.
The government has warned to cut off power, water and food supplies to the protestors' camp, but the Red Shirts have their own supplies and appear ready for a long siege, the BBC report stated.
During the overnight clashes, one protester was shot dead after the rebel group confronted the armed security personnel on the outskirts of the barricaded encampment. At least nine people have been injured.
Prime Minister Abhisit is under severe pressure to end the protests, which have crippled Bangkok since March 14.
He had offered polls on November 14 -- but the two sides failed to reach a consensus.
Image: Anti-government protesters take cover outside Lumpini park during a rally in Bangkok on Friday
Photograph: Sukree Sukplang / Reuters