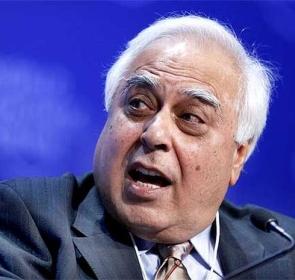 Contending that there was a need to check growing "criminalisation" in politics, Rajya Sabha on Tuesday "unanimously passed" a bill negating a Supreme Court verdict to allow people in jail to contest polls.
Representation of the People (Amendment and Validation) Bill, 2013 provides for a change in the Act of 1951. The amendment to sub-clause 5 of section 62 of the RPA, if passed by Parliament, shall come into effect from July 10, 2013, the day the Supreme Court gave its judgment that those in jail can not contest election.
"The fact is that the political class is the most accountable class in the country. Politicians are accountable to Parliament, to the Election Commission, to the country, to the people, to whom we go every after five years. We are the most accountable set of people in the country," Law Minister Kapil Sibal said in his reply after a discussion on the bill.
"It is we who have passed the law to make us accountable.
It is us who have decided to disclose our assets. Which other institution has taken such steps to make themselves more accountable," he said.
Sibal, who was congratulated by all members for bringing the bill, said the apex court's order might perhaps not have come had the "environment" been different.
"I dare say, in an another environment, we perhaps would not get such a judgment. The environment is that political class is being looked upon with suspicion," Sibal said.
After examining the Supreme Court order, the government had filed a review petition, but instead of waiting for the outcome, it felt the need to "suitably" address the situation.
Referring to criminalisation of politics, Sibal, however, said it would be unwise to paint the entire class in the same brush.
Leader of the Opposition Arun Jaitley said the Supreme Court order empowered a policeman to decide the fate of those seeking to contest elections.
"Police became the final arbitrator that who can contest and who can not...Are we going to risk the democracy to the police?" he asked.
Earlier, cutting across the party lines, members welcomed the move to negate the apex court's verdict, but most of them also contented the fact that there was a need to rein in growing "crimilaisation of politics".
Rama Chandra Khuntia of the Congress said, "We are committing a mistake by choosing a leader who has money power, muscle power and who can win."
Satish Chandra Mishra of the Bahujan Samaj Party, C P Narayanan of the Communist Party of India-Marxist, D Bandyopadhyay of the Trinamoo Congress and Naresh Agrawal of the Samajwadi Party also supported the amendment among others.