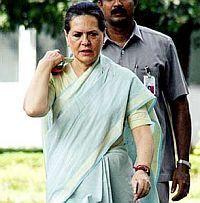 Accusing the opposition Bharatiya Janata Party of weakening the country's democratic institutions, Congress President Sonia Gandhi on Sunday challenged the graft charges leveled against the government, and said that those who lecture on corruption, are themselves neck-deep in corruption.
Addressing a Congress rally at the Ramlila Grounds in New Delhi, Sonia Gandhi said: "The Congress is a party which has always protected the Constitution. The opposition has stalled Parliament repeatedly; they have run away from debate. They are mired in corruption charges themselves; that is why they are making false allegations. They lecture us on corruption, but are corrupt themselves."
She further said: "We will fight the graft charges against us and anyone found guilty of corruption will not be spared."
She further said that she understands that price rise has affected the poor. However, she adds that India's growth momentum is steady and rising.
"I know that inflation has it the common man. The problem is that the oil prices have quadrupled in international markets -- we import 80 percent of our requirements. We have not increased the prices of food grains under the Public Distribution System. We are also planning on a bill that will guarantee food security," she said.