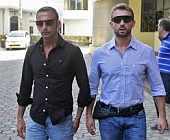 Slamming the government for claiming credit for the return of marines, the Opposition on Friday insisted that it was only due to the Supreme Court pressure that the Italians had relented and accused the United Progressive Alliance of extending its "politics of appeasement" to the international fora.
"Today is the day of the rule of law in India. Italy is sending the two marines back. It is due to the strictness shown by the Supreme Court that the two marines who used to go back for Christmas and voting in the elections have been called back," Bharatiya Janata Party spokesperson Shahnawaz Hussain said.
The party hit out at External Affairs Minister Salman Khurshid for claiming that diplomacy had ensured the return of the two marines charged with killing of two fishermen off the Kerala coast and asked why he has failed to bring back terror mastermind Dawood Ibrahim from Pakistan.
"Khurshid is taking credit for this. The mastermind of the Mumbai blasts Dawood Ibrahim is still in Pakistan. Why does he not bring them back? Even the Mumbai attack mastermind Hafiz Saeed is there. The government should bring them back," Hussain said.
The main opposition maintained that though it did not wish to do politics on such an issue, the fact is that had there not been Supreme Court pressure, this would not have happened.
"This government has been doing politics of appeasement in the country and is now doing it on the international fora as well," Hussain said, adding that the return of the marines was a "victory" of the apex court.
Asked about government assurance to Italy that the two marines will not be given a death penalty, as it is not a rarest of rare case, the BJP spokesperson said the quantum of punishment should be determined by the Supreme Court and not the government.
The BJP charged that the two marines were "sent as special guests" to Italy. Disputing claim that it was the victory of the stand taken by the Central and state governments, Communist Party of India-Marxist Rajya Sabha member from Kerala K N Balagopal said Italy's decision to send back marines was the victory of "the collective effort of the Indian people, Parliament and judiciary". "We have also proved that we are not a colony of Italy," he added.