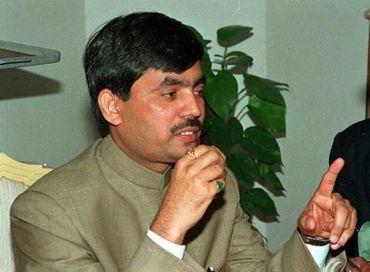 The Bharatiya Janata Party on Sunday accused the Samajwadi Party of entering into a deal with the UPA government and playing the "communal card" to justify its support to the Congress-led government at the Centre.
BJP spokesperson Shahnawaz Hussain claimed that people of the country were forgetting the word communalism.
"Barring Assam and Uttar Pradesh, there is no communal strife in the country. There is no communalism especially in NDA-ruled states. People are forgetting the word communalism. But some are using it to serve their political interests," Hussain said in New Delhi.
"SP has given opportunistic statements many times. On one hand they say we are opposing FDI, on the other hand they are supporting the government," he said.
On Saturday, Yadav said, "our support is clear. We will not let communal forces come to power."
Hussain accused SP of entering into a "deal" with Congress.
"Congress had a deal with SP on N-deal and the deal is not over yet. That time also SP saved the government and the case is in the court now."
Recalling the incident, the BJP leader said, "Advaniji has said on the floor of the Parliament that how government was saved in illegal way. SP has come to the rescue of the government in the meetings of PAC and JPC and in Parliament also. Today also SP is playing saviour of the government."
Sharpening the attack on SP, he said, "whenever SP has come to the power in the pretext of communalism, UP has witnessed communal violence in the state. Within six months of SP rule, there were communal violence of in Mathura, Allahabad, Pratapgarh, Barelli, Lucknow and now in Ghaziabad."
Seeking clarification from SP, he asked "who is responsible for continuation of the government and with whom the party is with?"
Image: BJP spokesperson Shahnawaz Hussain