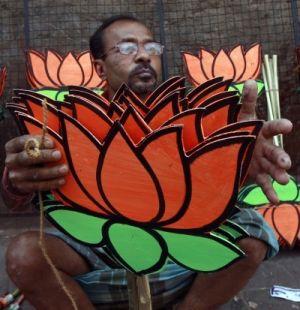 In a bid to improve coordination between the party and the government, at least one Union minister will be available at the BJP headquarters everyday starting Wednesday to hear grievances and suggestions from partymen.
Each minister will have to visit the party office once a month to ensure better governance, the party has decided.
Union Minister of State for Heavy Industries P Radha Krishnan will start this series of minister's visits to the party office from July 30 between 4 to 6 pm.
The move, initiated by Prime Minister Narendra Modi during his meeting with party leaders here on July 2, is aimed at not only ensuring better government-party coordination but also getting feedback from partymen visiting the party office from all over the country.
A minister has to be made available once every day to meet partymen and redress their grievances, as part of the series of ministers visiting the party headquarters once every month.
On Thursday, Minister of State for Food Processing Sanjeev Kumar Balyan will be at the party headquarters while Minister of State for Commerce and Industry, Finance and Corporate Affairs Nirmala Sitharaman will be there during the same time on Friday.
All ministers have also been asked to visit the party offices in states when they go there.