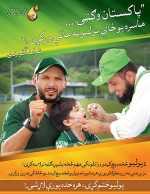 lmost one million Pakistani children were left uncovered in the latest anti-polio campaign conducted this week, with nearly 79,000 missing the vaccine in Karachi, according to official figures.
Pakistan is one of only three countries, which are yet to get rid of the crippling disease, besides Afghanistan and Nigeria.
The latest anti-polio campaign was conducted during October 15-17, and figures released by the federal polio control room showed that 9,98,569 children below the age of five years were not covered during the campaign.
Of them, 78,618 children were in the port city of Karachi alone. The national campaign was aimed at covering 32.8 million children.
The figures showed 4,01,286 children were not covered in Punjab, 2,92,883 in Sindh, 2,11,753 in Khyber-Pakhtunkhwa, 32,948 in Balochistan and 23,496 in the tribal areas.
Large numbers of children were also not covered in cities like Khairpur (20,654), Larkana (14,173) and Sanghar (18,917).
"While we can celebrate the achievement of vaccinating millions of children during every polio campaign, finding and vaccinating repeatedly missed children should be the top priority of all polio teams across the country," said Elias Durry, senior coordinator for polio eradication at WHO.
Experts said the disease is unlikely to be eradicated in Pakistan unless the polio vaccine reaches children in areas inhabited by the poorest of the poor.
Officials said efforts would be made to vaccinate the uncovered children during a national door-to-door campaign during October 18-20.
Pakistan is among a handful of countries where polio cases have registered a spike in recent years.
Forty-five polio cases have been reported from across the country this year.

Image: A poster from cricketer Shahid Afridi's polio campaign