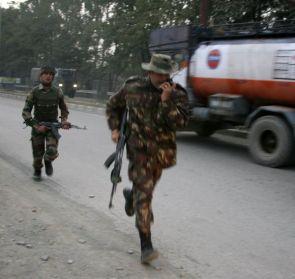 Two cops and a civilian were killed in another militant ambush on the Jammu Srinagar highway near Pampore in south Kashmir Pulwama district on Wednesday evening.
This is the second militant attack on the highway targeting security forces in past 48 hours. Six Border Security Force troopers were wounded in a militant ambush on the highway at Pampore on August 11.
A senior police officer said militants opened heavy fire at a passing police vehicle of a police deputy superintendent near Gallandar Pampore on the highway on Wednesday evening.
"One passer-by identified as Nazir Ahmad was killed on the spot and two cops were injured in the attack. The injured policemen were evacuated to the hospital where they succumbed," he added.
Senior police officers along with security force reinforcements rushed to the spot and the area is being searched. No group has yet claimed responsibility for the attack.