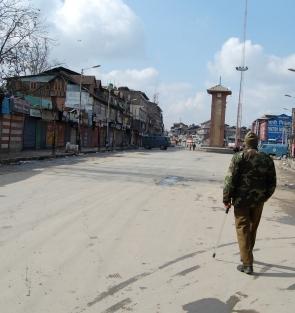 Curfew-like-restrictions were imposed in Srinagar and other major towns in Kashmir by the authorities early on Sunday on the first anniversary of the hanging of convicted terrorist Afzal Guru.
Guru was hanged in New Delhi's Tihar jail last year and his body was buried inside the jail premises, triggering days of violence in Kashmir valley.
On Sunday morning, hundreds of police and Central Reserve Police Force troopers fanned out in various localities of Srinagar to maintain law and order, following protest calls by separatists.
Authorities have detained all the senior separatist leaders.
Hurriyat leader Syed Ali Shah Geelani, who returned to Srinagar from New Delhi, was on Friday placed under house arrest.
The separatists have called for a three day shutdown to protest the hanging of Guru.
Jammu and Kashmir Liberation Front founder Mohammad Maqbool Bhat who was hanged and buried in Delhi's Tihar jail on February 11, 1984.
On Sunday afternoon, JKLF chairman Yasin Malik was detained while he was leading a protest rally near Lal Chowk at the city centre.
The strike crippled normal life across the Valley, shutting shops, businesses and halting transport services.
The restrictions in the Valley will continue till Tuesday, said authorities.
The separatists are demanding the return of the mortal remains of Guru and Bhat for burial in the valley.
The Kashmir University has cancelled all exams scheduled for February 10 and February 11.
Barring incidents of stone pelting at a few places, the overall situation remained peaceful, said a police spokesman.
Image: The deserted streets of Srinagar on Sunday ' Photograph: Omar Ganie