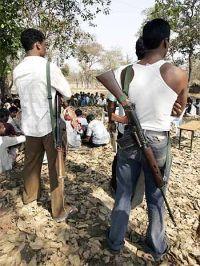 A few hours after killing a man, Maoist ultras on Friday set a private bus on fire near Beheraguda in Odisha's Malkangiri district, police said.
The incident took place at Behedaguda canal near Bejangwada when a private bus was going from Kalimela to Balimela, police said, adding the ultras forced the passengers out of the vehicle before setting it on fire.
No one was killed or injured in the incident and this was the second incident of setting a bus ablaze in the district within three days, they said.
Meanwhile, the Maoists released three of the seven people earlier abducted by them from Chintalguda and Ramaguda under the Bhejanwada panchayat area.
"They freed us after a trial at the praja (people's) court," the three released persons identified as Deba Padiami, Gudra Sodi and Suba Khara, told reporters.
They said the four others were safe in the Maoist camp, but refused to reveal details about the location of the camp. The Maoists had abducted seven persons two days ago.
Earlier in the wee hours, the Maoists had gunned down the father of a panchayat samiti member in Motu area suspecting him to be a police informer. A group of about 40 armed ultras struck at the house of Prabhakar Madkami and pulled him out, police said.
Madkami (60) was taken into the nearby forest by the rebels and his bullet-riddled body was found alongside a jungle road this morning, Superintendent of Police Akhileswar Singh said.
A poster, apparently left near the body by the assailants, claimed Madkami was killed as he was passing on information about Maoists' activities to the police and the BSF, Singh said, adding the poster also warned the villagers that they should have no link with the security forces.

Security forces have rushed to the area and an investigation was on, the SP added.