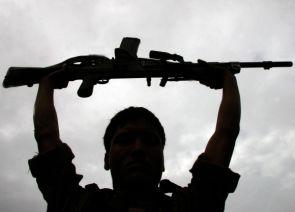 Maoists have shot dead two persons, including a village panchayat ward member, two days after abducting them in Odisha's Malkangiri district, police said on Saturday.
The bullet-riddled bodies of Tulasi Behera, ward member of Chintalguda, and Jaga Madkami of Ramaguda were found in a forest at Bejangwada area Saturday morning, Malkangiri Superintendent of Police Akhileswar Singh said.
BSF and police personnel had moved to the forest and nearby Tekguda jungle after the incident and an operation was launched to neutralise the red rebels in the area, police said. The two were among the seven persons, most of them tribals, who had been abducted by armed ultras in the early hours of December 12, Singh said.
While the Maoists had released three of the kidnapped persons on Friday, two others are still in their captivity, police said. The killing of the two came close on the heels of gunning down of the father of a panchayat samiti member in Motu area, police said.
A group of about 40 armed ultras struck at the house of Prabhakar Madkami, father of Manyamkonda panchayat, late Thursday night and shot him dead after calling him out, the police said, adding a few hours later the Maoists set a private bus on fire near Beheraguda in Bejangwada area on Friday. No was injured or killed in the incident, the police said, adding this was the second bus burning incident in the district within three days.
Earlier, Maoists had kidnapped three persons including the son of a village sarpanch of Gamphakunda on December 4. One of them escaped from the clutches of the ultras the next day while other two were released on December 7, the police said.