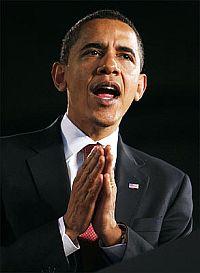 United States President Barack Obama would get back to his election campaign on Thursday after spending three days away from poll-related activities to focus on the devastating storm Sandy and its aftermath.
Obama had suspended his election campaign on Monday, Tuesday and Wednesday in view of the megatorm that devastated the country's Eastern Coast, claiming as many as 55 lives and leaving more than eight million people out of power.


The White House said on Thursday that Obama would resume his campaigning on Thursday when he travels to Colorado, Nevada and Wisconsin.
"During the grassroots events, the president will highlight his second-term agenda to grow our economy from the middle out, not the top down.
"His concrete and specific plan for the next four years will help create jobs, develop American energy, train the best workforce in the world, reduce the deficit in a balanced way and do some nation-building here at home," the Obama Campaign said in a statement.
Obama travelled to New Jersey on Wednesday to view the devastations caused by Sandy, one of the worst storms to ever hit the US.
Just days to go before America goes to polls, election campaign was put on the backburner due to the calamity as both Obama and his Republican challenger Mitt Romney suspended their campaign activities briefly.