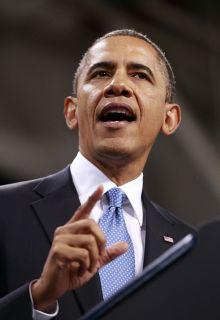 United States President Barack Obama on Thursday announced additional sanctions on Russia primarily targeted at its economy, certain individuals and a bank, in response to Russian action in Ukraine.
"We are today sanctioning a number of other individuals with substantial resources and influence who provide material support to the Russian leadership, as well as a bank that provides material support to these individuals," Obama told reporters on the South Lawn of the White House moments after signing an executive order in this regard.
"Now, we're taking these steps as part of our response to what Russia has already done in Crimea. At the same time, the world is watching with grave concern as Russia has positioned its military in a way that could lead to further incursions into southern and eastern Ukraine," he said.
For this reason, the US, he said, has been working closely with its European partners to develop more severe actions that could be taken if Russia continues to escalate the situation.
As part of that process, he said he has signed a new executive order today that gives his administration the authority to impose sanctions not just on individuals, but on key sectors of the Russian economy.
"This is not our preferred outcome. These sanctions would not only have a significant impact on the Russian economy, but could also be disruptive to the global economy. However, Russia must know that further escalation will only isolate it further from the international community," Obama said.
The basic principles that govern relations between nations in Europe and around the world must be upheld in the 21st century, he said.
That includes respect for sovereignty and territorial integrity, the notion that nations do not simply redraw borders or make decisions at the expense of their neighbours simply because they are larger or more powerful, he asserted.
"One of our other top priorities continues to be providing assistance to the government of Ukraine so it can stabilise its economy and meet the basic needs of the Ukrainian people," said the US president, who travels to Europe next week to meet with the G-7 and other European and Asian allies.