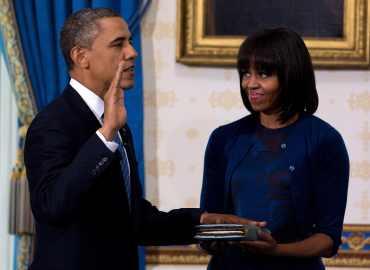 United States President Barack Obama will keep his date with history on Monday, as he will be sworn in for the second day in a row during a traditional public ceremony steeped in symbolism and watched by millions of Americans.
Fifty-one-year-old Obama was officially sworn in on Sunday for a second four-year term by the US supreme court Chief Justice John Roberts at a small White House ceremony.
Surrounded by family, friends and staff, in the Blue Room of the White House, Obama had placed his hand on the historic Robinson family bible, selected specifically for the occasion, and recited the 35-word presidential oath.
Monday's ceremony to be held outside the West Front of the Capitol overlooking the National Mall is expected to have the full trappings of an inauguration as Obama will recite the oath of office in front of a crowd expected to number between 8,00,000 and 9,00,000 people, the
CNN
reported.
The nation's first African-American president will also become the only 17th US leader to deliver a second inaugural address before leading the traditional parade up Pennsylvania Avenue to the White House.
An estimated 1.8 million onlookers jammed the National Mall for Obama's first inauguration. The smaller crowd this time around reflects the reality of second-term presidencies, when the novelty and expectations of a new leader have been replaced with the familiarity and experiences of the first four years.
For Obama, that difference is even sharper. His historic ascendancy to the White House in 2008 came with soaring public hopes and expectations for a new kind of governance that would close the vast partisan gulf developed in recent decades.
Obama had selected historical bibles including those used by Abraham Lincoln and Martin Luther King for his swearing in ceremonies.
"I will be honoured to again stand on the inaugural platform and take part in this important American tradition," Obama had said earlier this month.
US Presidents Dwight D Eisenhower and Ronald W Reagan also had two ceremonies, one private swearing-in on a Sunday and a public oath ceremony on the following Monday.

Image: US President Barack Obama takes the oath of office as frst lady Michelle Obama holds a bible during the official swearing-in ceremony at the White House in Washington January 20 | Photograph: Doug Mills/Reuters