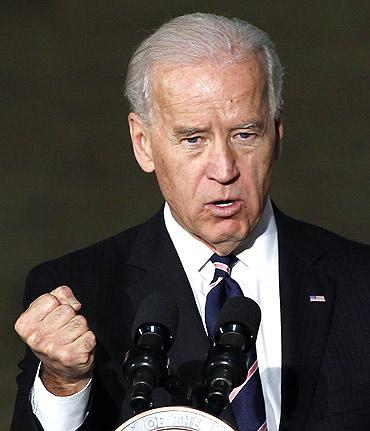 Joseph Biden and Barack Obama faced each other as challengers in the 2008 Democratic primary, but in opting for a staus quo in Washington the Unirted States voters consolidated their partnership as brothers-in-arms.
Biden, Obama's running mate for a second consecutive election, will continue to be in the second highest office of the US as Vice President after the Americans voted for the Obama-Biden combo again.
The 69-year-old politician, who is Delaware's longest- serving senator since first being elected 35 years, was picked up by Obama as his running mate in 2008 after his own failed presidential campaign.
In his victory speech on Wednesday, Obama thanked Biden profusely, calling him America's 'happy warrior'. "I want to thank my friend and partner of the last four years, America's happy warrior, the best vice president anybody could ever hope for, Joe Biden," said Obama to loud cheers from the audience.
Earlier during the campaign, Biden also joked about a possible run in 2016, when he told an attendee of his campaign event in Florida: "You can vote for me in 2016".
When asked by reporters on Tuesday if he thought it was the last time he'd vote for himself, he replied: "No, I don't think so", sparking further speculation.


Meanwhile, the Republican candidate Mitt Romney's running mate, the young Paul Ryan, lost out in his bid to be the next US vice president but succeeded in keeping his seat in he House of Representatives.
However, Obama won Ryan's state Wisconsin comfortably.