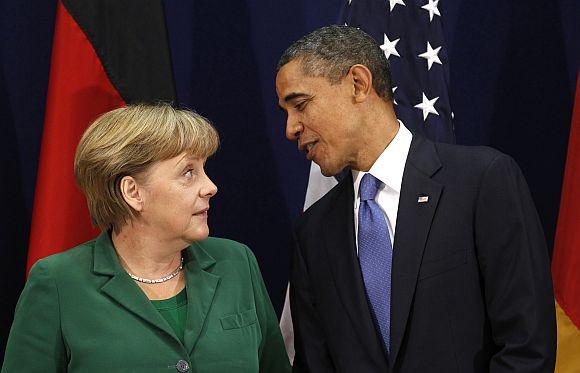 The United States has dismissed reports that President Barack Obama was informed about the tapping of Angela Merkel's mobile phone, even as an American daily on Monday said that spying of as many as 35 world leaders, including the German chancellor, ended when it was brought to his notice.
The National Security Agency has refuted that it ever discussed such spying programmes, in particular those of Merkel, with Obama.
"(NSA Director) Gen (Keith) Alexander did not discuss with President Obama in 2010 an alleged foreign intelligence operation involving German Chancellor Merkel, nor has he ever discussed alleged operations involving Chancellor Merkel. News reports claiming otherwise are not true," NSA spokesperson Vanee' Vines, said in a statement.
The denial came after a report by Bild am Sonntag newspaper said Obama was informed about the NSA's tapping of Merkel's mobile phone already in 2010 by its director.
The president "not only did not stop the operation, but he also ordered it to continue," a high-ranking NSA official was quoted as saying by the paper. A media report also said that the Merkel's surveillance may have begun as early as 2002.
Meanwhile, The Wall Street Journal reported on Monday that Obama was unaware that his own NSA monitored the cellphone communication of as many as 35 world leaders including those of France and Germany.
The spying programme ended this summer when it was first brought to his notice, the report said. The reports of such spying programmes, derived from documents acquired from former Central Investigation Agency contractor Edward Snowden, have outraged a number of European leaders in particular those of France and Germany and has badly damaged the US relationship with these countries.
The report, quoting unnamed US officials, said the White House cut off some monitoring programmes after learning of them, including the one tracking Merkel and other world leaders. Other programmes have been slated for termination but have not been phased out completely yet, officials said.