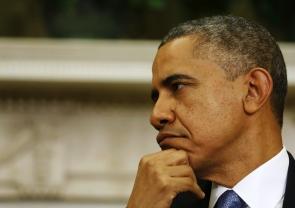 Backing India's concerns over the slow pace of progress in the 26/11 case in Pakistan, United States President Barack Obama on Thursday asked Prime Minister Nawaz Sharif why the trial of Mumbai attackers has not started.
"He (Obama) asked, why the trial of the (Mumbai) terrorist attack in India has not started yet," Sharif told mediapersons. immediately after his over two-hour meeting with Obama at the Oval Office of the White House.
During the meeting, the US President also raised the issue of Jamaat-ud-Dawa, cross border terrorism and Dr Shakil Afridi, the Pakistani doctor who helped the Central Intelligence Agency track down al Qaeda chief Osama bin Laden and has been imprisoned, Sharif said.
"He (Obama) has raised the issue of (Dr Shakil) Afridi. He spoke about cross-border movement. He also talked about Jamaat-ud-Dawa," the Pakistan Prime Minister said, without giving details.
Speaking in chaste Urdu, Sharif told reporters that Pakistan's relationship with India was discussed at length, including Kashmir, but did not give details of what aspect of Kashmir issue he raised nor did he talk about the response from Obama on this issue.
Obama, after the meeting with Sharif, said that the Pakistan prime minister was taking a "wise path" in exploring how decades of tension between India and Pakistan can be reduced.
"I think he (Sharif) is taking a very wise path in exploring how decades of tension between India and Pakistan can be reduced, because, as he points out, billions of dollars have been spent on an arms race in response to these tensions and those resources could be much more profitably invested in education, social welfare programmes on both sides of the border between India and Pakistan, and would be good for the entire subcontinent, and good for the world," Obama told mediapersons in a joint media appearance with Sharif.
In a joint statement issued after the meeting, Obama welcomed recent engagements between Sharif and Singh and expressed hope that this would mark the beginning of a sustained dialogue process between the two neighbours, aimed at building lasting peace in South Asia and resolving all outstanding territorial and other disputes through peaceful means.
Obama said the two leaders had an opportunity to discuss India after the meeting of the Prime Ministers of India and Pakistan in New York on the sidelines of the UN General Assembly.
Both of us discussed strengthening and deepening of bilateral relationship. We had wide ranging discussions on issues including economy, Pakistan's energy, education, extremism in Pakistan. We talked about Afghanistan, we talked about relationship with India. This included Kashmir. We talked on drones. We talked about Aafia Siddiqui," Sharif said.
Obama asked as to what the US can do for Pakistan, to which Sharif sought the policy of trade not aid.
"When he (Obama) asked what we (US) can do for Pakistan, I said, I do not need any aid from you. We want to increase our economic relationship. Please open your market for Pakistani products. This is more than enough for us," Sharif said.
"He asked what we can do to address your energy issue. I said you should encourage your people, the private sector to come to Pakistan and invest in the energy sector. Pakistan is providing very good opportunities for them," Sharif said.