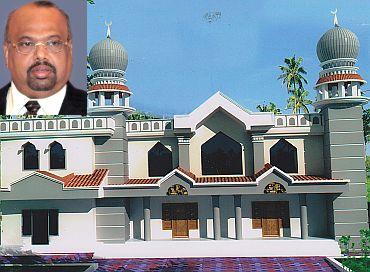 In a selfless act aimed at promoting communal harmony, Padmashri C K Menon, a Qatar-based businessman, has renovated a 150-year-old mosque in Mokeri near Panoor in Kerala's Kannur district.

Members of the mosque renovating committee told rediff.com said that Menon donated more than a crore rupees for renovating the Nuchiyad mosque.

Talking to rediff.com, Menon said: "I would thank God for being able to play a small part in the renovation of this ancient mosque, which has been an hallmark of peace and communal harmony for the people of the Mokeri area. The Muslim brethren can now offer prayers in a better environment and increased space."

Kerala Chief Minister Oomen Chandy, who attended the mosque inauguration function, said: "Padmashri CK Menon is a model who could be emulated by people of our state. His act will pave the way for several other people to come forward to help in various charitable acts. This is indeed an exemplary act, which will always be remembered in history."

Earlier, Muslim League state president Hyder Ali Shihab Thangal declared the mosque open after renovation in the presence of a sea of devotees and Union Minister E Ahmad and several other dignitaries.