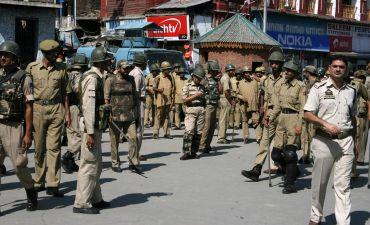 Kashmir on Friday witnessed widespread protests against a film deemed offensive to Islam.
Almost all senior separatist leaders including hard-liners like Syed Ali Shah Geelani, Mirwaiz Moulvi Umar Farooq, Shabir Ahmad Shah and Naeem Ahmad Khan were placed under house arrest by the authorities to contain the protests.
Hundreds of protestors shouting anti-US slogans took to streets immediately after Friday prayers although there were no major incidents of violence.
However, security forces had to fire warning shots and use tear smoke shells and baton charges to contain the swelling protestors in the old part of the summer capital Srinagar and north Kashmir's Sopore and Baramulla towns.
Earlier hundreds of lawyers staged anti-US protests in Srinagar after they boycotted the courts.
The lawyers marched on the streets in the heart of capital Srinagar denouncing the film.
Since early on Friday morning authorities had put in place elaborate security across the Valley deploying hundreds of police and paramilitary, central reserve police force (CRPF) troops in full riot gear.
Chairman of the moderate All Parties Hurriyat Conference Mirwaiz Moulvi Umar Farooq in a statement said, "It is a very sensitive issue. It has hurt the religious sentiments of entire Muslim Ummah and enraged Muslims around the world."
A police spokesman in a statement said, "Peaceful protests were held at many places against the film in Srinagar and other places. However, a few incidents of stone pelting were reported from Maisuma, Nowhatta and old town Baramulla after the Friday prayers. Exercising maximum restraint, police chased away the pelters. No one was hurt."
Image: CRPF troops keep a close watch in Srinagar as protestors took to the street against a controversial film | Photograph: Umar Ganie/Rediff.com