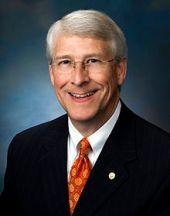 A day after twin bomb blasts rocked Boston, a senior Republican senator received a poison-laced letter, source of which is being investigated.
The envelope addressed to Roger Wicker, a Senator from Mississippi, was tested positive for ricin, a highly poisonous substance, Senate Majority Leader Harry Reid said.
Following this, the authorities have increased security for the senator.
According to the Centers for Disease Control and Prevention, ricin is a poison found in castor beans, which can be manufactured from castor bean waste materials.
After the 2001 anthrax scar in which letters sent to two Democrat senators contained anthrax spores, all the mails sent to the lawmakers are screened at an off-site facility. The letter was tested positive at this off-site facility.
"There was a letter sent to a member that had gone through our processing facility, not on-site here, but in the area, and it was identified as containing ricin, which is a dangerous substance," Senator Mary Landrieu said after a briefing for Senators on the probe into Boston blasts.
"The police are in full investigation. They don't think that anyone in the Capitol complex is in any danger. They'll go through regular decontamination procedures and they'll notify all the appropriate offices," Landrieu said.
Senator Wicker's office referred all media queries to the Capitol Police.
Image: Senator Roger Wicker