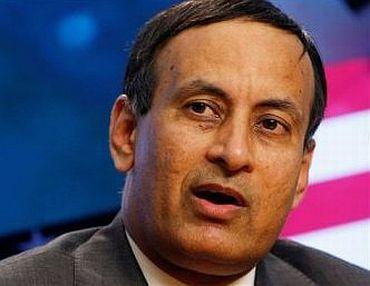 Amid a controversy around Pakistani diplomat Hussain Haqqani, news reports said he was seeking asylum in the United States, but the envoy denied this and said he would return to his country shortly to explain his position on a secret memo purportedly sent by President Asif Ali Zardari to the Obama administration.
The Pakistan ambassador to the United States strongly refuted news reports that he has sought asylum in the US after he tendered his resignation to Zardari a day earlier.
"I am a Pakistani, I will die a Pakistani," Haqqani told The Atlantic magazine when asked about the reports.
"I've lived in the United States so many years without seeking citizenship, and this is because I have a love for Pakistan," Haqqani said, adding that he has offered his resignation to Zardari but it has not been accepted yet.
The envoy has been at the centre of a controversy after media reports linked him to the secret memorandum and has been called by Premier Yousuf Raza Gilani to explain his position.
"I am coming to Pakistan on the orders of President Zardari. Even before returning, to give President Zardari adequate leverage, I have written to him that I do not need the job. I took up this work on the order of (slain former premier) Benazir Bhutto," Haqqani told a Pakistani television programme on Thursday night.
"I will be reaching Pakistan in one or two days," he said.
Haqqani is still in Washington and continues to function as his country's top diplomat to the US.
"I have sought a role to play in the history of my country. I have not sought this as a job. I will continue to play this role, but I have offered my resignation as a way to defuse the current situation, in which a handful of journalists have blown out of all proportion an op-ed by a businessman," Haqqani told the Atlantic magazine.
The journalist-turned-scholar-turned-diplomat said this in reference to the recent op-ed by Pakistani-American businessman Mansoor Ijaz, who claimed that Zardari, through an unnamed diplomat (assumed by many to be Haqqani) tried to enlist American help after the Abbottabad raid to keep the military from completely taking over Pakistan's government.
Haqqani, a close aide of Zardari and his late wife Bhutto, denied he had played any role in writing or handing over the secret memorandum. He said he had also not asked anyone to hand over the document to US officials.
There was no word from the presidency or the government on whether Haqqani's resignation would be accepted.
Media reports have said the powerful army has been pressuring Zardari and the Pakistan People's Party-led government to remove Haqqani, who has always had an uneasy relationship with the military.
The government recently called Haqqani to Islamabad to explain his position on the memorandum in question.
Ijaz claimed Zardari had offered to replace Pakistan's powerful military and intelligence leadership and cut ties with militant groups. He contended that he had been directed to draft the memorandum by an unnamed senior Pakistani official close to Zardari.
Pakistani media and analysts have speculated -- without offering any proof whatsoever -- that the unnamed official cited by Ijaz was Haqqani, who has been a vital link between Pakistan's weak civilian government and the US administration.
After initially saying that he did not recollect receiving the document, former chairman of US Joint Chief of Staff Admiral Mike Mullen on Wednesday confirmed the existence of the secret memorandum.
His spokesman Capt John Kirby said Mullen had acknowledged that the memorandum "does exist" and that he had received it but had taken "no follow-up action".