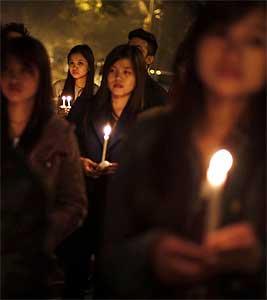 A group of MPs from the northeast met Prime Minister Manmohan Singh on Monday and demanded an anti-racial discrimination law and judicial inquiry into the death of Aruachal Pradesh youth Nido Tania.
The MPs included Assam Chief Minister Tarun Gogoi's brother Dip Gogoi and Pankaj Bora from the Congress, Birendra Prasad Baishya and Joseph Topp from Asom Gana Parishad and Bijoya Chakravarty and Rajen Gohain from the Bharatiya Janata Party.
They also demanded an all-party meeting to discuss the issue.
In their memorandum submitted to Dr Singh in Parliament House, the MPs said that the "brutal" attack on Nido "leading to his untimely death" has created an anger and outrage among students, professionals and others from the northeastern region.
"Such a case of assaulting a student of NE region in Delhi is not one of the kind but part of a string of similar attacks, discrimination and sexual abuse of youths of the region," they said.
In the memoranda under the northeast MPs forum, they submitted a five-point chart of demands to the PM including setting up of a judicial commission headed by a retired Supreme Court judge to study and prepare a report on all forms of racial discrimination happening to the students of northeast.
"Call an all party meeting to discuss ways and means of introducing an enacting the Anti Racial Discrimination Bill," they said besides demanding setting up of a dedicated cell or centre to attend the grievances and redress such issues.
Besides, they also sought inclusion of information on history, culture and demographic profile of the NE region in the national curriculum of the Central Board of Secondary Education and University Grants Commission.
The demands were part of a resolution adopted by the forum in a meeting in Parliament House on February 7.
Tania, son of Arunachal Pradesh Congress MLA Nido Pavitra, was allegedly beaten up by some shopkeepers in Lajpat Nagar area of south Delhi on January 29 when he retaliated after they made fun of his hairstyle. He was found dead in his room next day. The incident evoked widespread outrage.

Image: Students from northeast hold a demonstration urging action to stop discrimination against them