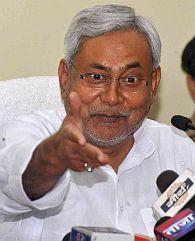 Bihar Chief Minister Nitish Kumar on Wednesday said "positive" talks took place between 14 non-Congress and non-BJP parties for formation of a separate bloc in the Parliament which he said would be based on programme and not person.
"Very positive and good talks took place between the non-Congress and non-BJP parties for formation of a separate block in the Parliament," Kumar told reporters after a state cabinet meeting.
Kumar, who is playing an important role in the formation of the bloc, did not attend Wednesday's meeting at Delhi because of the cabinet meeting and other engagements in Patna.
He said former prime minister and Janata Dal-Secular leader H D Deve Gowda had told him about the meeting.
To dispel apprehensions about the future of such a group, which might become a casualty of personality clash, Kumar said, "It will be based on programme and not person."
Kumar is expected to be in Delhi on February 9, 10 and 11 during which he might meet some leaders of this new group.
Meanwhile, JD-U president Sharad Yadav, who attended the meeting in Delhi on Wednesday, told reporters that the "meeting of 14 parties to form a federal front was the second step after the anti-communal convention on October 30 last year".
"Today we took the second step to function collectively against pressing problems like price rise, corruption and unemployment gripping the country," he said at Patna airport on arrival from Delhi on Wednesday evening.
"Whatever name you give, but this is a federal front which will work collectively," the JD-U chief, whose party is actively cooperating with the Left parties in forming the group of non-Congress and non-BJP parties, said.
Sharad Yadav said this front would be organised on the basis of programme.
"We will move ahead with the issues on which non-Congress parties had organised Bharat bandh twice in the past," Yadav said.
Yadav came down hard on the BJP which was part of the two countrywide bandhs against the Congress, saying, "They thought they can go for hunting alone."
He said both the Congress and the BJP believe in "selling dreams" but would not succeed in their pursuit.
Reacting to BJP prime ministerial candidate Narendra Modi's trashing the alternative front, he said Modi should know that "we formed government thrice... though it is another thing that they were toppled by them."
He brushed aside the criticism saying it was a "reaction of a dejected man".
"The 14 parties cooperating in the alternative front will maintain their own identities and cooperate with other parties on issues," he said.
All these parties are active for the coming Lok Sabha elections and organising public programmes on their own, and not on the lines of the BJP which is holding rallies with the help of "huge cash", he added.