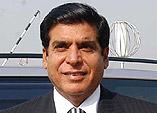 Amid continuing speculation that elements backed by the security establishment are working to delay Pakistan's general election, Prime Minister Raja Pervez Ashraf on Thursday said there could be 'no room for any delay' in holding the polls.
During a meeting held at the prime minister's house on Thursday morning, the premier directed Law Minister Farooq H Naek 'to ensure that the Constitution and law are followed in letter and spirit in the run up to the next elections so that there is no room for any delay'.
Naek is a key member of the government team that is holding consultations with allies of the ruling Pakistan Peoples Party and opposition parties on installing a caretaker set-up to oversee the general election, expected to be held by mid-May.
The law minister briefed Ashraf about the role of the election commission and measures taken by the government to ensure free, fair and transparent elections, said a statement from the premier's office.
The two leaders discussed the 'current situation in the backdrop of parleys with leaders of the PML-Q and reviewed the overall arrangements of the election process', the statement said.
Pakistan's political circles have been abuzz with speculation about the polls being delayed to prolong the term of a caretaker set-up for up to three years since cleric Tahir-ul-Qadri suddenly returned to Pakistan from Canada and led a massive protest against the government to push for electoral reforms.
Qadri on Thursday filed a petition in the supreme court seeking the reconstitution of the Election Commission.
Pakistan Muslim League-Q leader Chaudhry Pervaiz Elahi, a key ally of the Pakistan People's Party-led government, too has called for the reconstitution of the poll panel.
Top PPP leaders, including the premier, have been insisting that the polls will not be delayed. They have said that after the lower house of parliament completes its term in mid-March, polls will be held by May.