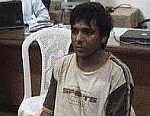 Pakistan on Wednesday said it had not received any request from Ajmal Kasab's family to bring back his body following the hanging in an Indian jail of the lone surviving terrorist involved in the 2008 Mumbai attacks.
Any request from Kasab's family to bring back the body would be handled in accordance with Pakistani laws, Interior Minister Rehman Malik told reporters in Islamabad.
"No member of Ajmal Kasab's family or relative has requested the government (to bring back the body). When any member of the family makes a request, then we will take it up with the Indian government," he said.
Malik reiterated Pakistan's commitment to the war on terrorism, saying any person involved in a terrorist act should meet his "logical end".
"As far as his hanging is concerned, you know the resolve of Pakistan and our stated position that we are against terrorism. If there is a terrorist and if someone has done an act of terrorism, I think that terrorist should meet his logical end," he said.
Foreign Office spokesman Moazzam Khan too was quoted by the media as saying that the issue of bringing back Kasab's body would be handled according to the wishes of his family.
In a related development, leading rights activist Ansar Burney offered to help in bringing back the body if Kasab's family contacts his organisation in this regard. He said he had no sympathy for Kasab but the family had the right to bury the body in accordance with Islamic traditions.
Twenty-five-year old Kasab was hanged at 7.30 am in the Yerwada central prison in Pune. The Pakistan government was kept informed about the execution.