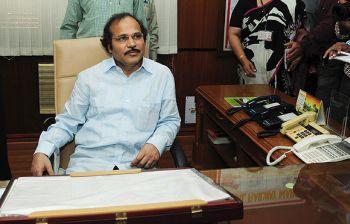 A court in Baharampore on Monday refused to grant reprieve to Union Minister Adhir Chowdhury in connection with a murder case.
Chowdhury, the Union Minister of State for Railways, had moved the court praying that he be not arrested till the hearing of his bail petition pending before it.
The ACJM court had earlier fixed the date of hearing in the case on October 29.
Vacation judge D Kar, however, rejected the petition and refused to grant him reprieve.
Chowdhury is away in Delhi.
A non-bailable arrest warrant was issued against him by additional chief judicial magistrate court on September 27 for alleged conspiracy in the murder of Trinamool Congress worker Kamal Sheikh in Golbazar area of Murshidabad district of West Bengal in 2011 and he was chargesheeted by the police on September 25.
He had appealed to the court on October 1 that the case against him was false and the court had ruled that the hearing would be held on October 29.
On October 3 Chowdhury petitioned that the hearing be advanced to an earlier date which the court turned down.
Chowdhury had told PTI that he had been falsely implicated and the ruling Trinamool Congress was pursuing vindictive politics in the state.
He had said he would give a full report to Prime Minister Manmohan Singh and Congress president Sonia Gandhi.
Image: Union Minister Adhir Chowdhury
Photograph Courtesy: PIB