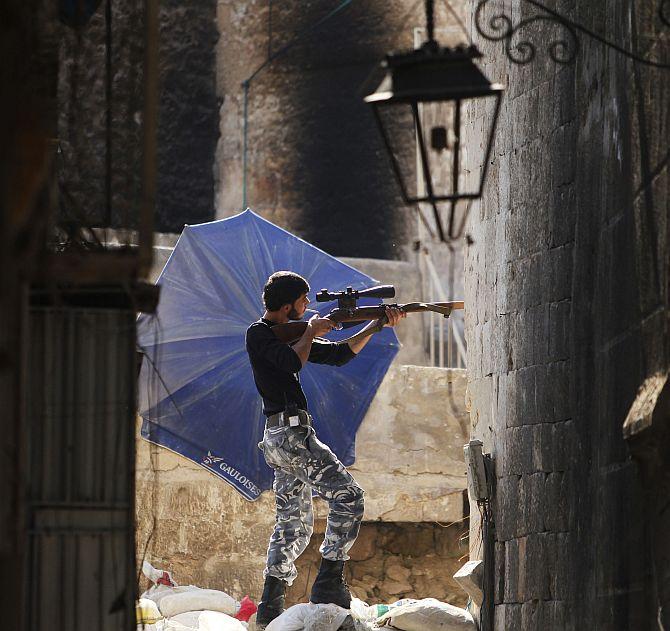 The United States on Sunday warned Syria that it has taken no options off the table after striking a deal with Russia to destroy Damascus's chemical weapons stockpile and asserted that military action against the Assad regime still remains "real".
"The threat of force remains, the threat is real," US Secretary of State John Kerry said at a joint press conference in Jerusalem with Israeli Prime Minister Benjamin Netanyahu.
"We cannot have hollow words in the conduct of international affairs," he said after a four-hour meeting with Netanyahu.
During the meeting the two leaders also discussed the ongoing Middle East peace talks. "Make no mistake, we have taken no options off the table," Kerry warned.
"The fact of weapons of mass destruction having being used against the people of their own state -- these are crimes against humanity and they cannot be tolerated," he said.
Netanyahu said destroying Syria's chemical arsenal would make the entire region "a lot safer". "The world needs to ensure that radical regimes don't have weapons of mass destruction because, as we've learned once again in Syria, if rogue regimes have weapons of mass destruction they will use them," he said.
"If diplomacy has any chance to work it must be coupled with a credible military threat," Netanyahu said.
Earlier, Netanyahu expressed hopes that the US-Russian deal to remove Syrian chemical weapons would lead to "complete destruction" of the arsenal. "We hope the understandings reached between the United States and Russia regarding the Syrian chemical weapons will yield results," the Israeli Premier said in a speech at a memorial ceremony for Israeli soldiers killed in the 1973 Yom Kippur War.
"These understandings will be judged by their result -- the complete destruction of all of the chemical weapons stockpiles that the Syrian regime has used against its own people," he said.

Image: A Free Syrian Army fighter aims his weapon as he takes a defensive position in the old city of Aleppo

Photograph: Muzaffar Salman/Reuters