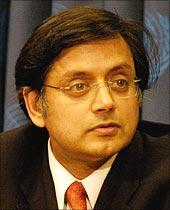 Union Minister of State for External Affairs Sashi Tharoor on Sunday said that it was not proper to ban the book authored by Jaswant Singh for his references on Muhammad Ali Jinnah.
Talking to reporters, Tharoor said that in a democratic country like India, people have the right and freedom to speak and write.
"If a person is not interested in reading the book, let him not read it," he said.
Tharoor added, "In 1991, I wrote about Congress chairperson Sonia Gandhi, which later created controversy. The same Sonia Gandhi allotted a seat for me to contest in the Lok Saba polls and after that I became a minister. Opinion differs during the course of the period".