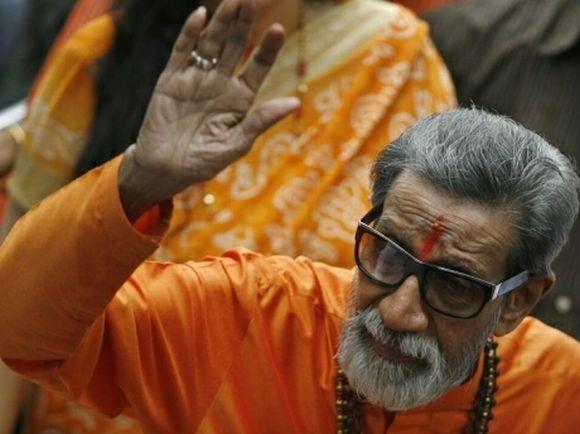 Shiv Sena chief Bal Thackeray on Monday asked 'staunch Hindus and patriotic public' not to allow the ensuing Indo-Pak cricket matches in India, unless Union Home Minister Sushilkumar Shinde withdraws his statement on 'forgetting the past' to play cricket with Pakistan.
"Shinde saheb, if you have an iota of shame left, then withdraw this shameless remark of yours," Thackeray said, in a statement in Sena mouthpiece 'Saamana'.
"I am bedridden but even in this condition, my blood boils (over Shinde's statement) and hence I am making this appeal to my Hindu brethren to disrupt these matches," Thackeray said.
"You say let bygones be bygones. What to forget and how to forget," Thackeray said, referring to the Parliament attack and 26/11 Mumbai terror strike.
The 86-year-old leader, who has dubbed Pakistan's India tour, which begins next month, as 'a national shame', said Maharashtra government has dismissed the mercy petition of
Ajmal Kasab and the central government should also follow suit.
Earlier, Thackeray had termed the The Board Of Control For Cricket In India's decision to go ahead with the India-Pakistan cricket matches 'as betrayal' of the country for money and said Indian cricketers were part of that betrayal.
Thackeray's nephew, Maharashtra Navnirman Sena chief Raj Thackeray, has also opposed the Pakistan cricket tour in India, which would comprise three one-day internationals and two Twenty20s.
The venues are New Delhi, Kolkata, Chennai, Bengaluru and Ahmedabad.