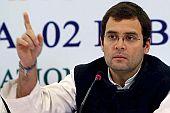 Since the last 22 years no single party has had its own government and the compulsions of coalition government have not allowed national issues to be addressed. The Congress doesn't seem to be looking to change that trend in the 2014 Lok Sabha polls. Renu Mittal writes
Even as the Congress has appointed Rahul Gandhi as its commander for the coming Lok Sabha elections in 2014 and will project his as its youthful prime minister, the party has decided not to go along with his ekla chalo (go alone) philosophy, at least in this election.
Keeping in view the pragmatic political compulsions of running a coalition government, Congress sources made it clear there is no question of "jettisoning allies and alliances, at least not in this election".

In fact, on the contrary, Congress President Sonia Gandhi has taken care to set up a committee headed by A K Antony, which would look at allies state-wise and after identifying and approaching potential allies it would report back to her for approval.
For example in Bihar, Rashtriya Janata Dal and Lok Janshakti Party are seen as its natural allies and the committee would look at a likely pre-poll alliance with them, provided the state leadership is also on board, said AICC general secretary Digvijaya Singh.
The election co-ordination committee, which is headed by Rahul, which deliberately refrains from mentioning him as its chairman was, reportedly, set up a month ago and has already had 4 meetings under his leadership though officially the setting up of the committee was announced only on Thursday.
The coordination committee, which has been tasked with the main job of planning and execution for the coming Lok Sabha polls, will also design the party's main election strategy and would look after the nuts and bolts and logistics of the election machinery.

Digvijaya Singh said that the Antony committee report has recommended that preparations for the elections must begin early and key planning issues should not be left till the last minute, including the selection of candidates.
Along with this there are also apprehensions that the UPA government is hanging onto dear life with a fine thread and with a stormy winter session approaching, there is always a risk to the government.

Sources say that with the government being badgered from all sides, the party may think it wise to go for elections after presenting a populist budget but all this is still in the realm of conjecture. The party feels it needs to begin its planning and not be caught on the wrong foot.
According to Digvijaya Singh, he says it is true that since the last 22 years no single party has had its own government and the compulsions of coalition government have not allowed national issues to be addressed.

He says that coalition politics does not allow the party leading the coalition to push its agenda and while the ideal situation is to go alone, the Congress at its Shimla Chintan Shivir took a decision on alliances based on the existing political reality and then negotiated with regional allies in certain states.
As it moves into election 2014, the Congress will look at each state individually and holistically and based on the possibilities as well as its own strengths and the availability of like minded allies it would decide what course of action needs to be taken.


After signalling that it is going all out to prepare for the general elections under the command and leadership of Rahul, a reshuffle of the AICC is also on the cards with a senior leader disclosing that it is likely to take place "soon".

The new team which would be set up would be an election oriented team and would be crafted keeping in mind Rahul's comfort level and is likely to have his imprint on it.
Digvijaya Singh has indicated that Rahul would be given a bigger responsibility in the party also, apart from the fact that he would be spearheading the party's election campaign and strategy.