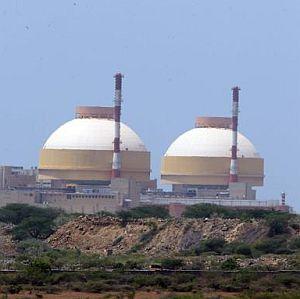 The government on Friday said it was open to imposing additional conditions on the Kudankulam nuclear power project, if directed by courts, to protect the marine ecosystem of the region.

The Kudankulam Nuclear Power Project (KNPP) has met all the conditions set by the environment ministry while granting clearance to the project, Environment Minister Jayanthi Natarajan told media persons in New Delhi.

The environment ministry, while granting green clearance to KNPP, has asked Nuclear Power Corporation to ensure that the rise in sea temperatures at the final water discharge point does not exceed seven degrees Celsius over and above the ambient temperature.

Natarajan's comments come at a time when a petition on various safety aspects of KNPP is being heard in the Supreme Court where the rise in sea temperature is one of the points being argued.

"If we are impleaded by the court, if a need arises I am willing to reconsider to make it from seven degrees to five degrees like Jaitapur," the minister said.

Natarajan, however, maintained that a seven-degree rise in water temperature would not harm marine life or people living around the nuclear plant.

For the Jaitapur Nuclear Power Project, the environment ministry has restricted the temperature rise at water discharge point to five degrees celsius as against seven degrees celsius for KNPP and other thermal power plants using sea water.

The first 1,000 MW unit of the KNPP is at an advanced stage of completion and is likely to be commissioned in the next few months.