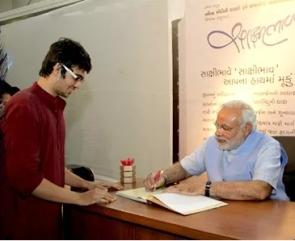 Congress leader Digvijaya Singh on Friday asked the party's youth brigade to launch a strong, fearless and "tit-for-tat" campaign against Bharatiya Janata Party's prime ministerial candidate Narendra Modi on the social media.
"I have not seen a person who is more of a coward and a bigger liar than Modi. If you fear countering this liar, you should go and sit at home. If anybody from the BJP opposes us, he should be replied to in the same language that they use against us. Be fearless and write whatever you want against Modi. He who fears does not live. They have a paid team of professionals and we are volunteers. Counter their propaganda everywhere you can," Singh said while addressing a national convention of the National Student's Union of India.
Taking a jibe at Modi's recent chai pe charcha campaign, the Congress leader urged NSUI workers to fight the BJP's prime ministerial candidate everywhere, including tea shops.
"You have to counter his propaganda even at tea stalls. Do all the tea stalls belong to him? You go there. Fight him there and tell people how much untruth he speaks. Do not be scared in countering a liar like Modi," Singh said.
"This is the age of social media. BJP and Sangh still dominate the social media space. We are able to counter them. We should be doing it," he said while urging NSUI leaders to help increase the party's reach on the new medium of communication like Twitter and Facebook.
Singh, who has been a critic of Modi on social media and in public discourses, has been advocating for a long time that the Congress should be merciless while attacking Modi.
He did not hide his displeasure over the lack of initiative in the party in attacking the Opposition.
"They (BJP) are trained in spreading lies and mischief. They are masters at distorting everything," he said while drawing parallels of the BJP and the Rashtriya Swayamsevak Sangh with Joseph Goebbles, the propaganda minister of the Nazi government headed by Hitler.
Talking about the political challenges ahead of the Congress, Singh said there is a need to make the party cadre based, as both the Left Front and the BJP have the support of cadres.
"The BJP without the RSS is zero. The RSS is cadre based. Our challenge is with the RSS. The Congress party will have to become a cadre-based party. This is the army of cadres," he said to the NSUI cadres.
Singh also took a dig at the trend of some party leaders joining other parties by saying Congress needs durable assets (tikau maal) and not saleable assets (bikau maal).
He said that those joining politics should be clear about what ideology they want to follow and once they join the party on its basis, they should not be switching loyalties.
His comments came on a day when a senior leader Jagdambika Pal quit the Congress and fuelled speculations about joining the BJP.
Singh also dismissed the dismal predictions made by opinion polls about the fate of the Congress.
Attacking Modi for his "lack of knowledge" of history and geography as well as of his own party BJP, Singh said, "Modi does not know India and he does not know his own party."
Singh asked NSUI workers not to clap when a group of young leaders cheered former Rajasthan chief minister Ashok Gehlot, who has worked in the NSUI.
Singh reminded them that the party had lost badly in Rajasthan in the recent assembly elections.
"I want to tell the NSUI president that the biggest challenge lies in Rajasthan. Results of the state (assembly elections) are there to see. Gehlot worked so well. Yet we lost there. The battle ahead cannot be fought only through zindabad slogans," said Singh.
Image: Gujarat Chief Minister Narendra Modi ' Photograph Courtesy: http://www.narendramodi.in/