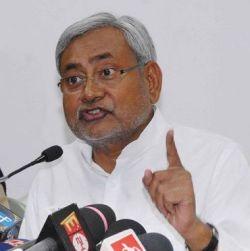 Bihar Chief Minister Nitish Kumar on Monday claimed that neither the Bharatiya Janata Party nor the Congress would get a majority in the 2014 Lok Sabha elections, while also dismissing the possibility of emergence of a Third Front.
"In such a condition parties opposed to the Congress and the BJP holds importance," Kumar told reporters in Patna.
Asked about a Third Front, he replied, "Where is the Third Front? No such front has arisen yet."
Hinting that an alliance of parties opposed to the Congress and BJP might take place after the polls, he said, "When time comes we will take a decision. We (Janata Dal-United) have not spared any thought to it as we are focusing on our state," he said. About his chance of becoming the prime minister, he said the question had no relevance.
A rally against communalism in Delhi on October 30 in which 14 parties including the JD-U, Samajwadi Party, Left parties and Janata Dal Secular had participated, triggered speculation about formation of a Third Front for the parliamentary elections. Nitish Kumar and Samajwadi Party Chief Mulayam Singh Yadav were the main speakers at the meet.
There was speculation of the JD-U oscillating between the Congress and the possibility of emergence of a Third Front. A section of Congress leaders wanted an alliance with the JD-U instead of joining hands with jailed RJD president Lalu Prasad and Lok Janshakti Party chief Ramvilas Paswan.
Four Congress MLAs in Bihar had voted for the Kumar government during a confidence motion after the split with the BJP.