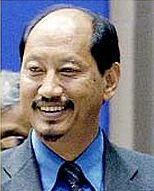 Nagaland Peoples Front Legislature Party, which swept back to power in assembly polls, will elect chief minister Neiphiu Rio as its leader and along with alliance partners Bharatiya Janata Party and Janata Dal-United approach Governor Nikhil Kumar by Friday to form the next government in the state.
Rio, who would be the chief minister for the third consecutive term, addressing a press conference at the NPF central office in Kohima on Thursday evening thanking the people of the state for reposing the faith in NPF-led Democratic Alliance of Nagaland.
NPF stormed back to back to power winning absolute majority in the 60-member assembly by securing a total 37 out of 60 seats in the assembly.
"The mandate given by the people is a vote for peace, development and stability," he said adding the people had given their verdict trusting the collective leadership of NPF and it proved that the party is here to stay.
Rio said the Naga political issue had topped the NPF agenda and assured that the party would continue to work as a facilitator and work to bring an honourable and acceptable solution to the problem.
"We will not waver from our venture ... We will continue to collectively work in the greater interest of all sections of the Naga people."