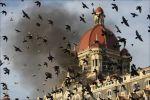 Terming the 2008 Mumbai attacks as a "crime against humanity", Ed Royce, the next chairman of the powerful House Foreign Relations Committee has said that there is a need to exhort pressure on Pakistan to bring to justice the culprits of the mayhem.
"These terrorists have committed crimes against humanity. They need to be brought to justice and that's where I think the pressure needs to be applied," Royce told a group of Indian journalists.
"I do not care if this is in the international criminal court, if it's in The Hague, or we try them in Pakistan, but they have to be tried for the crimes they have committed.
"We have to put pressure on the Government of Pakistan to see that justice is done, because you cannot have this kind of mayhem, this type of wholesale slaughter of innocent people, men women and children and not see justice done," he said.
Royce was speaking at the Capitol Hill on the sidelines of the annual 'US-India Congressional Caucus Appreciation Dinner' organised by the Indian American Forum for Political Education.
On Wednesday, the Republican Party, which has a majority in the US House of Representatives, announced that Royce would be the Chairman of the House Committee on Foreign Affairs. He replaces Congresswoman, Ileana Ros-Lehtinen.
Royce is the current Co-Chair of the Congressional Caucus for India and Indian Americans in the House of Representatives.
Besides pushing Pakistan to act strongly against the 26/11 perpetrators and other terrorist attacks, Royce said he would also focus on improving trade relationship between the two countries, and more India-US co-operation in counter-terrorism sector.
Royce, who has visited India several times and is one of the best friends of India in the US Congress, said that there is need for both India and the United States to liberalize trade and investment.
"This is an issue where we really would have to do a better job in liberalising trade on both sides. There is necessity of reforms in India and there is necessity here (in US)," he said.
Noting it is tough to anticipate an attack like that on Mumbai four years ago, Royce advocated a strong co-operation in the counter-terrorism sector.
"The United States and India face a challenge here. These attacks we can't anticipate. We have to work together with intelligence communities and to share information and figure out ways to respond quickly," he sadi.
"My goal as the incoming chairman of the House Foreign Relations committee is to strengthen this relationship in the future, because we share the same values. We share the same commitment to democracy and human rights. The United States must work closely with India," Royce said.
In September this year Royce, in his capacity as head of a key sub-committee of House Foreign Affairs committee, had held a Congressional hearing on the Haqqani network, following which US Secretary of State Hillary Clinton designated it as a foreign terrorist organisation.
"As you know, I am quite a critic of the fact that the ISI has not been held accountable," he told Indian journalists in response to a question.