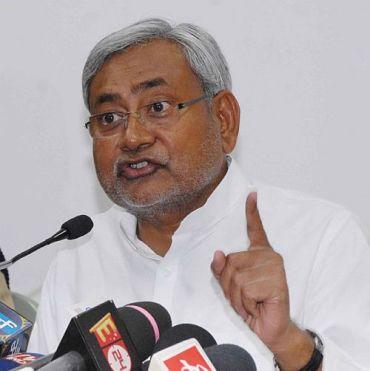 Amid suggestions by some Bharatiya Janata Party leaders that Narendra Modi was fit to be the prime minister, Bihar Chief Minister Nitish Kumar on Thursday said the National Democratic Alliance has not yet decided on its prime ministerial candidate and this will be done at a later stage.
At a session of 'Agenda' programme organised by the 'Aaj Tak' news channel, the Bihar chief minister said the prime minister should be the leader of the largest party of the alliance and should not be a nominated person.
"We don't have any information that the BJP has decided on its Prime Ministerial candidate and if they want the support of allies of NDA, they will have to come to the  NDA and share with us.
"At that time, there will be proposal about who is the candidate and what we have to do. That time is not here yet... What I see is that both parties (Congress and BJP) have not yet decided on the issue (PM candidate)," he said.
Kumar was reacting to a question that between the Congress and the BJP, whom will he support for prime ministership if the BJP zeroes in on Modi for the top slot.
In recent times, BJP leaders including Sushma Swaraj have stated that the Gujarat chief minister was fit to be the next prime minister.
On the possibility of a government being formed under his leadership, Kumar said, "I am far, far away from this race. I do not even dream about it."
On suggestions that Rahul Gandhi was prime ministerial candidate of the Congress, Kumar differed saying, "There is a fine difference. Rahul Gandhi is termed as the future leader of the party but he has not been declared as the future prime ministerial candidate for the party.
"Sonia Gandhi is the leader of the Congress but she nominated Manmohan Singh as prime minister. Whether Rahul would also nominate someone, that is not clear yet."