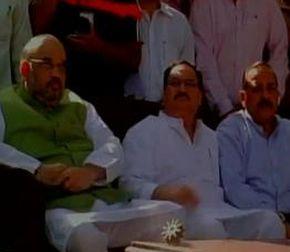 A scuffle broke out between the workers of National Conference and Bharatiya Janata Party on Monday ahead of Amit Shah's arrival at the border migrant camp in R S Pura forward area of Jammu district.
The NC leader from R S Pura, Taranjeet Singh Tony along with his workers came to the border migrant camp at R S Pura where Shah was scheduled to meet the migrants and address them at a function.
Tony insisted on putting his point of view before Shah and raise the demands of the border migrants.
However, BJP workers didn't allow him by saying that it was a special function for Shah to meet the border migrants.
Tony made some remarks that it was not a political function of Shah and more so a matter of border migrants, who are facing bullets from Pakistan.
Following his statement, border migrants and the BJP workers booed him and raised anti-National Conference slogans. Later, police took Tony out of the venue.
Image: BJP president Amit Shah visits the border area. Photograph: ANI/Twitter