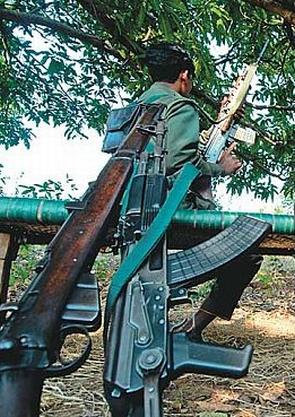 A recent study on Naxalism in India has concluded that Naxal fighters spend roughly Rs 140 crore annually to wage war against the Indian State.
The National Investigation Agency, which is probing various Naxal attacks across the country, suffers from the lack of an adequate database on the left-wing ultras. All Indian security agencies have access to is a list of the ten most wanted Naxals.
"We have details about Naxals who are directly linked to their operations. But we don't have much information on those who manage other functions, like finances and logistics," said a NIA official.
Naxals procure arms and ammunition by attacking police stations and stealing weapons. There have been reports about the ultras receiving assistance from terror outfits which enjoy the patronage of Pakistan's Inter Services Intelligence.
NIA officials believe that left-wing terrorism is no longer being carried out by only those who believe in the Naxal ideology. The flush coffers of these so-called Maoists ensure that they can employ people with lethal skills to carry out their agenda.
Much like the Mumbai underworld at its prime, a major source of income for Maoists is extortion. They target affluent businessmen who end up paying a considerable amount of money for 'protection'. Most such cases go unreported as these businessmen want to stay out of the violent feud between Naxals and police.
Naxals, believe NIA officials, have a stockpile of nearly Rs 2,000 crore by virtue of their many murky financial activities.
Incidentally, the left-wing ultras have 'outsourced' the task of collecting extortion money. While members of the core team threaten rich businessmen into paying the money, it is collected by an 'outsider' from a pre-decided 'collection point'.
According to the study, the earnings, expenditure and financial dealings of Naxals is managed by a dedicated wing within the left-wing organisation.
But the existence of only an ancient database -- some of the photographs of Naxal leaders is nearly 30 years old -- is hampering the NIA's ongoing investigation.
The agency desperately needs an updated database on the Naxals, similar to the one they have for the Indian Mujahideen.