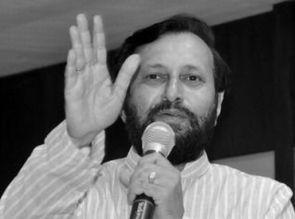 The Bharatiya Janata Party on Tuesday accused Congress of indulging in "petty politics" by accusing Chhattisgarh government of failing to provide adequate security to Congress leaders killed in the Naxal attack.
"BJP has exercised restraint regarding the dastardly attack by Naxals...we have not indulged in blame game due to a sense of responsibility. But Congress is going berserk and indulging in petty politics by blaming the state government," party spokesperson Prakash Javadekar told reporters.
He said instead of indulging in "mud slinging", Congress should work towards evolving a "well-coordinated" policy so that the Centre and the Naxal-affected states can combat the menace together.
"It is not restricted to Chhattisgarh alone. Several states today are affected by the problem. Like terrorism, it is a national problem and we need to fight it together by rising above political lines," he said.
Chhattisgarh Chief Minister Raman Singh has admitted the "security lapses" that had led to the killing of key Congress leaders last week but rejected the charge that adequate security was not provided to the leaders.
"The charge that we did not provide adequate security is not correct. The government did make arrangements to ensure safety of leaders...But definitely there are some security lapses. An inquiry has been ordered to fix responsibility," Singh said in Raipur on Monday.