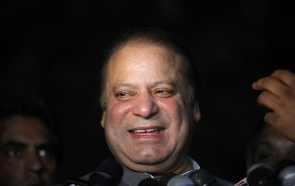 Pakistan Prime Minister Nawaz Sharif will visit China next week on his first foreign tour since assuming office, the foreign ministry said on Friday.
Prime Minister Sharif will be accompanied by a high-level delegation for his first official visit abroad on July 4-8 after assuming his office, the foreign ministry said on Friday. Sharif was invited by Chinese Premier Li Keqiang when he visited Islamabad last month.
"Taking place immediately after the visit of Premier Li Keqiang in May this year, the visit signifies the closeness and warmth which characterizes Pakistan–China relations. High level visits are the hallmark of the strong Pakistan–China relations," said a foreign ministry statement.
To prepare for the visit and to ensure follow-up on the prime minister's discussion with Premier Li in Islamabad, a task force led by Ahsan Iqbal, minister for planning and development, visited China on June 24-26.
A number of proposals and initiatives were discussed which would be finalised during the prime minister's visit. Besides official talks with the Chinese leadership, the prime minister's engagements include meetings with leaders of Chinese financial and corporate sector, interaction with media, visit to major industrial centers and special economic zones, the statement said.
"We are confident that the prime minister's visit will provide further impetus to enhancing the existing strategic partnership between Pakistan and China," it said.
Pakistan says that economic cooperation between Pakistan and China has expanded significantly in recent years. Under a comprehensive framework Pakistan and China have bilateral economic cooperation in the form of joint economic commission, economic cooperation group, joint energy working group and a joint investment company, besides several other mechanisms.
A free trade agreement as well is operational since 2008, covering trade in goods, investment and services. Trade volume last year crossed the figure of $12 billion with Pakistan exports increasing by 48 per cent. Over 120 Chinese companies are engaged in Pakistan and Chinese investment touched the figure of $2 billion in 2012.