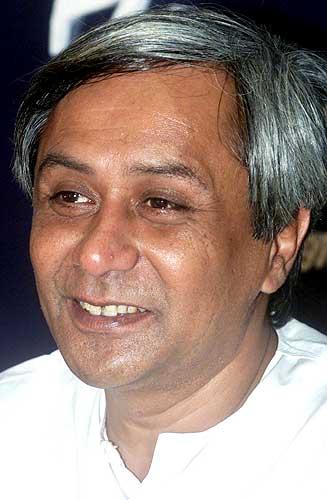 From hobnobbing with the likes of Jacqueline Kennedy and Mick Jagger, the reclusive author-turned-politician has come a long way, says Anita Katiyal.
Odisha Chief Minister Naveen Patnaik has never been a frequent visitor to New Delhi. Except for brief official meetings, he has confined himself to his home state ever since his surprise entry into the unlikely and murky world of politics in 1997.
Therefore, his sudden visibility in the national media over the last two days and his decision to hold a rally at Ramlila Grounds on Wednesday to demand special status for Odisha cannot be dismissed as just another publicity stunt.
It is obvious that the reclusive author-turned politician wants to send out a message that he is ready to spread his wings and play a larger role at the national political stage.
Patnaik's move comes at a time when the Indian polity is in a flux and national political parties such as the Congress and the Bharatiya Janata Party are looking shaky, while regional parties are predicted to play a key role in the formation of the next government following the 2014 Lok Sabha elections.
Consequently, regional satraps such as West Bengal Chief Minister Mamata Banerjee, Bihar Chief Minister Nitish Kumar and Tamil Nadu Chief Minister J Jayalalithaa are positioning themselves as possible prime ministerial candidates.
Patnaik too has his eye on the main prize. It is no coincidence that he decided to hold a public rally in Delhi a few months after the Bihar chief minister had done the same; ostensibly to seek special status for Bihar, but primarily to demonstrate his political clout at the Centre.
Having won three assembly elections, the legendary Biju Patnaik's son believes he has the experience and the pedigree to move to the national political stage.
Patnaik first spoke about bringing together like-minded regional political parties under the umbrella of a secular Third Front last year when he took the lead in opposing the creation of a National Counter Terrorism Centre.
He had then managed to get the support of Mamata, Kumar and Jaya who banded together to take on the Congress-led United Progressive Alliance government on the plea that the proposed anti-terror body violated federal principles.
Talk about the formation of a Federal Front or a Third Front has been revived in the past few days as reports from Bihar indicate that Janata Dal-United leader is getting ready to snap ties with the BJP.
Mamata has already touched base with the Bihar chief minister and Patnaik in this connection. Reiterating his stand in his interviews, Patnaik has repeatedly maintained that "a Third Front or Federal Front would be good for the country," a view endorsed by Mamata.
These regional players believe that if they can win a substantial number of seats in the 2014 general election, this grouping stands a good chance of playing a pivotal role in the formation of the next government.
Although there are murmurs that Patnaik could even join hands with the Congress if the need arises after the next general election, the Odisha chief minister has denied any such possibility.
In fact, he has gone out of his way to take on the United Progressive Alliance government. Besides embarrassing the ruling coalition on the formation of the anti-terror body, the Odisha chief minister refused to support the UPA's presidential candidate Pranab Mukherjee and instead chose to field P A Sangma as the BJD's candidate for the top constitutional post.
He was quick to put the blame on the UPA government when the controversy over the coal blocks allocation surfaced last year even though his government had sent in its recommendations for the allocation of the 31 coal blocks in Odisha.
Clearly, Patnaik has a come a long way since his reluctant entry into politics. Nobody gave him an outside chance when he first took on his father's legacy considering he did not even speak Odia. He was considered a novice as he had stayed far away from the political world, better known as a jet-setting author whose close friends included Mick Jagger and Jacqueline Kennedy.
But Patnaik surprised everybody as he proved to be a quick learner. Although serving his third term, his popularity is undiminished while his clean image and credibility remain untouched even though a string of scams have surfaced during his tenure.
Patnaik has fended off internal dissensions with finesse and decimated his political rivals. At the same time, he has endeared himself to the rural poor with his populist schemes such as giving rice at Rs 2 per kg and bicycles to Class X girls in government schools. A growing middle class in Odisha is equally smitten by him.
Although he is perceived to be soft-spoken and gentle, Patnaik also possesses an unusual ruthless streak. He will go to any lengths to preserve his government, his party and his image. He has not hesitated to drop inconvenient ministers if they were embroiled in controversies. At the opportune time, he dumped the BJP and surged ahead.
He threw out Excise Minister AU Singh Deo, his close confidant and school friend, when a hooch tragedy threatened the Patnaik government. Similarly, he was quick to drop Agriculture Minister Pradeep Maharathy over his alleged involvement in a rape case.
Similarly, people such as Bijay Mohapatra and Dilip Ray who formed the Biju Janata Dal and initiated Patnaik into the political world were axed when they became inconvenient, while his one-time confidant Pyarimohan Mohapatra, who he referred to as 'uncle', was suspended when he raised a banner of revolt against the chief minister.